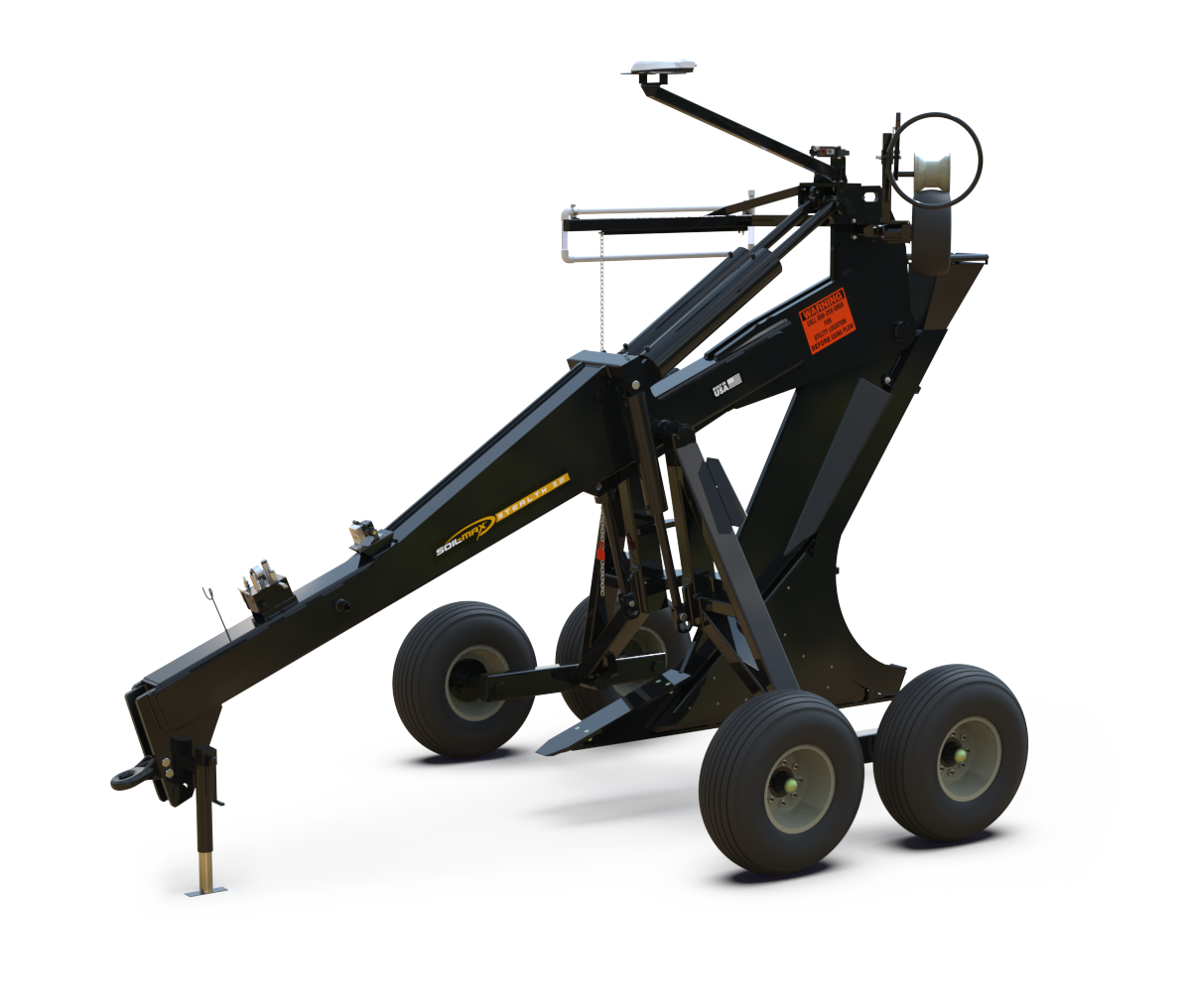 Introducing the Soil-Max Gold Digger Stealth ZD Tile Drainage Plow
---
TRAIL-BLAZERS WANTED! You can tile your land yourself, and achieve professional results. We have helped dozens of farms throughout western Canada do just that. The Soil-Max Stealth ZD tile plow is the best-selling plow in North America because it really does make tiling your own land achievable and affordable. The sooner you start the sooner you see the benefits.
Wherever you are in western Canada, we will come and setup your plow and train you in plow operation and best practices...plus provide all the support you need going forward. We've been tiling with and selling these plows for over 10 years. If you run into an issue we've probably come across it already!
The 'Canadian' Model - Exclusive to Northern Plains
---
---
THE NEW 'CANADIAN' HD STEALTH ZD PLOW
The new Heavy Duty Stealth ZD that we developed with Soil-Max specifically for conditions in western Canada. This is the best plow for anyone looking to install their own tile drainage in Alberta, Saskatchewan, or Manitoba. Based on our experiences and feedback, the main beam of the plow was reinforced to handle extreme force, and the pitch control hydraulics were upgraded to accommodate BIG pulls in tough ground.
Read Review
Read our Review of the Soil-Max Gold Digger Plow
Click Here
Features
The easiest-pulling plow with the most accurate tile placement control
---
Install your tile drainage in 3 easy steps:
---
1. SURVEY
Can be done ahead of time with an ATV, or at the time of installation with the tile plow utilizing RTK GPS. Collect surveys by driving over the path where tile needs to be placed to collect the surface elevation.
---
---
2. PLAN
Enter the desired minimum/maximum and target depths, as well as the minimum grade to drain excess water from the field. This can be done in the field or with the SMS™ Advanced Water Management Module.
---
3. INSTALL
Use the plan you created to install tile using AutoTile® to adjust the depth and pitch of the plow automatically to ensure accurate placement and on-grade tiles. If you can drive a tractor you can tile!
Frequently Asked Questions
Think you can't afford to tile? Think again!
---
Buy Equipment & Tile for 5 Days a Year
Is it worthwhile? Click here to find out
---
Many of our customers lease their equipment through their preferred lender. Leasing tiling equipment not only offers benefits such as freeing up other credit lines, but the biggest benefit is that you can expense 100% of your lease payments and buy the equipment at the end of the lease for a fraction of it's actual value.
---
Typical Tiling Setup
---
If you already have RTK this would be the typical package we'd recommend. Consists of the plow, 4" and 6" tile boots, a stringer cart, power feeder, and the Intellislope Plow Control System.
---
---
Typical Setup with RTK
---
If you don't have RTK (and don't plan on upgrading what you currently have to RTK), then we sell a lot of systems with the Outback A320/321 RTK system. This is the best value RTK and works exceptiptionally well for tiling.
---
SPENDING JUST A FEW DAYS EACH YEAR INSTALLING TILE DRAINAGE WILL PROVIDE RETURNS THAT ARE SIGNIFICANTLY GREATER THAN YOUR COSTS OF EQUIPMENT LEASING AND THE PIPE YOU'LL INSTALL
Soil-Max HD Stringer Carts
Soil-Max HD Stringer carts offer rugged durability and a smoother ride than lesser carts on the market. The disk braking system is controlled hydraulically from the switch box used to raise and lower the deck, meaning you can adjust the level of braking while stringing, and again makes for a significant improvement over other carts. 
The Soil-Max HD Cart is built to handle the rigors of rugged terrain. It has a sturdy 5,200 lb. axle on 6-lug wheels with a steel tube construction frame. A 30-foot magnetic controller and 12V DC hydraulic unit makes operating the unit simple and straightforward.
The 11′ 6″ tabletop diameter with disk brake turntable makes feeding tile similarly easy and the 12-inch diameter stringer can manage the flow of any size tile.
Choose from 3-point hitch, single axle, or tandem axle units. You also have the option to get hydraulic-only units and maxi-spools.
Both on and off the field, our 8-ply high flotation tires (12.5 –15) reduce soil compaction and make transport easy. LED brake lights, height-adjusting hitch, and legal highway transport width eliminate the transportation headache from field to shed.
Optional Additions for your Plow
Tile Boots available in 4" 6" 8" and 10" sizes allow you to install 3" to 10" tiles
---
Power Tile Feeder is recommended to reduce pipe stretch
---
Walking Tandem Beam Kit gives smoother survey runs and wider stance
---